You Escape the urban hustle and embrace the serenity of Montauk, a coastal gem nestled at the tip of Long Island in the Hamptons. With its pristine beaches, charming town center, and vibrant culture, Montauk promises a day of relaxation and adventure. In this guide, we've curated an itinerary to help you make the most of your day trip to Montauk.

Best Time to Visit Montauk
Before embarking on your day trip to Montauk, it's important to consider the best time to experience its unique charm. While Montauk is a year-round destination, late spring through early fall offers the most favorable weather for outdoor activities. You can bask in the sun, enjoy water sports, and take in the natural beauty of the area.
Traveling to Montauk
A day trip to Montauk from NYC can be a breeze, or it might turn into a bit of a trek, depending on the season and time of day. Here's a quick rundown by mode of transport:
By Car:
For those seeking flexibility, driving is an excellent choice. Take the Long Island Expressway (I-495) to exit 70, and follow the signs for Route 27 East. This scenic route will lead you through Southampton, Bridgehampton, and eventually to Montauk.
By Train:
If you prefer a more relaxed journey, the Long Island Rail Road (LIRR) offers direct service from Penn Station to Montauk. The trip takes approximately 2-3 hours, providing a comfortable and scenic ride to your destination.
By Bus:
Several bus services connect NYC to Montauk, offering a convenient and cost-effective option. Depending on traffic, the journey typically takes anywhere from 2.5 to 4 hours.
Travel Tip: Consider traveling on weekdays (Monday to Thursday) for lighter traffic and better availability in accommodations and restaurants. If driving, avoid Friday afternoon rush hour when leaving NYC, and plan your return on Sunday mornings or early afternoons to avoid heavy traffic heading back into the city.
DAY TRIP TO MONTAUK ITINERARY
Morning:
8:00 AM – Coffee at Left Hand Coffee: Kickstart your day at Left Hand Coffee, a local favorite known for its artisanal brews and cozy atmosphere. Sip on a freshly brewed cup while savoring a delightful pastry, setting the perfect tone for your day trip to Montauk.
What You Should Order: iced Nutella latte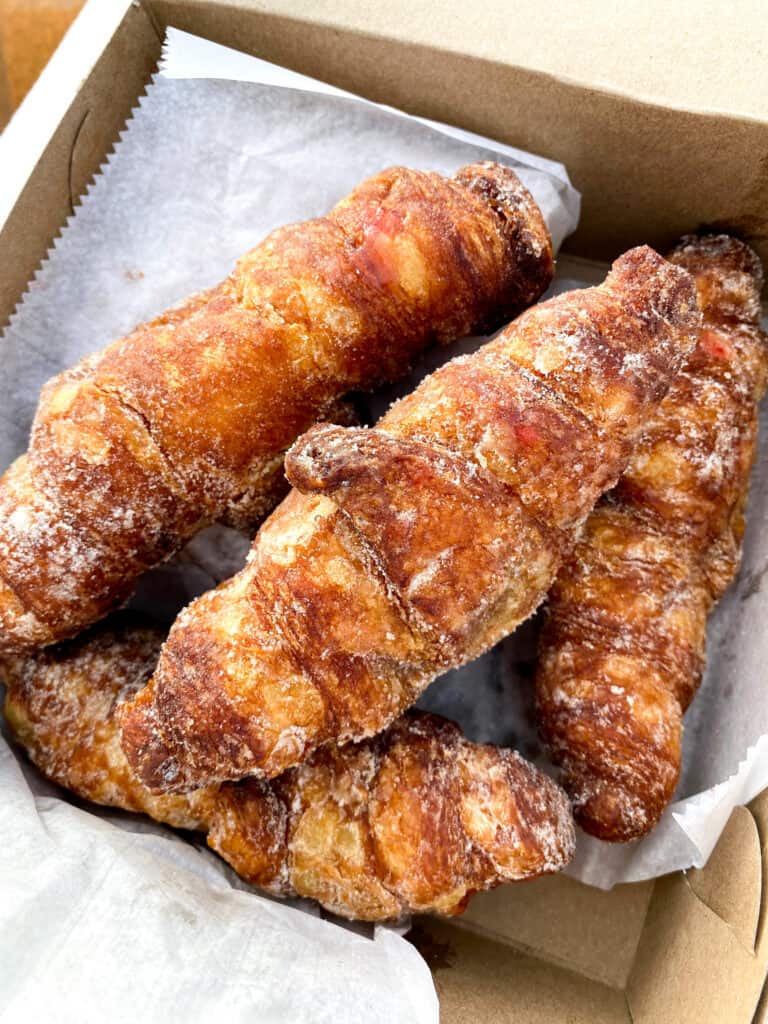 8:30 AM – Pastries at Montauk Bake Shoppe:  Head over to Montauk Bake Shoppe and grab a pastry from their amazing selection of donuts, muffins, crumb cakes, and fresh rolls. Their claim to fame? The flakey delicious jelly croissant that you won't want to miss.
What You Should Order: jell croissant & coffee cake
9:00 AM – Montauk Point State Park: Make your way to Montauk Point State Park, where the iconic Montauk Lighthouse stands tall. Immerse yourself in its rich maritime history as you wander through the historic grounds. Don't miss the chance to climb to the top for some incredible panoramic views of the Atlantic Ocean.
Mid-Morning:
10:30 AM – Hike at Shadmoor State Park: Nature enthusiasts, Shadmoor State Park is a must-visit. Take a leisurely hike through coastal bluffs, dense vegetation, and a pristine beachfront. It's a tranquil escape with diverse wildlife, perfect for a nature-filled morning.
Lunch:
12:30 PM – Lunch Choices: Time to refuel! For a delicious seafood meal, make your way to Gosman's Dock. This local gem is celebrated for its fresh catches and charming harborside views, where you can watch fishing boats come and go from the marina. If you're in the mood for some light bites, swing by 668 Gig Shack for some of the best spicy muscles out east. It's a must-try spot with a beachy, laid-back vibe that's quintessentially Montauk.
View this post on Instagram
Afternoon:
2:00 PM – Beach Time at Ditch Plains: Spend your afternoon at Ditch Plains Beach, renowned for its stunning scenery and excellent surfing conditions. Whether you're a seasoned surfer or simply looking to bask in the sun, this beach offers something for everyone.
4:00 PM – Explore the Town Center: Stroll through Montauk's town center, where boutique shops, art galleries, and charming eateries line the streets. Stop in at Wyld Blue or Tombolo and browse for some clothing or Montauk souvenirs.
Evening:
6:00 PM – Sunset at Duryea's Restaurant: Head over to Duryea's for an unforgettable sunset experience and seafood dinner. This beachfront spot offers a relaxed atmosphere, making it the perfect place to enjoy a cocktail and some fresh local seafood. Take in a gorgeous sunset as the perfect ending for a lovely day trip to Montauk.
What You Should Order: The Sunset Tower, Duryea's Lobster Cobb Salad, Whole Grilled Octopus
View this post on Instagram