These crispy, crunchy coconut shrimp tacos are exactly what you need for a delicious weeknight meal. You can bake or fry these coconut shrimps and serve them with a cilantro lime slaw or mango salsa. They only take 30 minutes to make and will give you all the sweet and savory tropical vibes.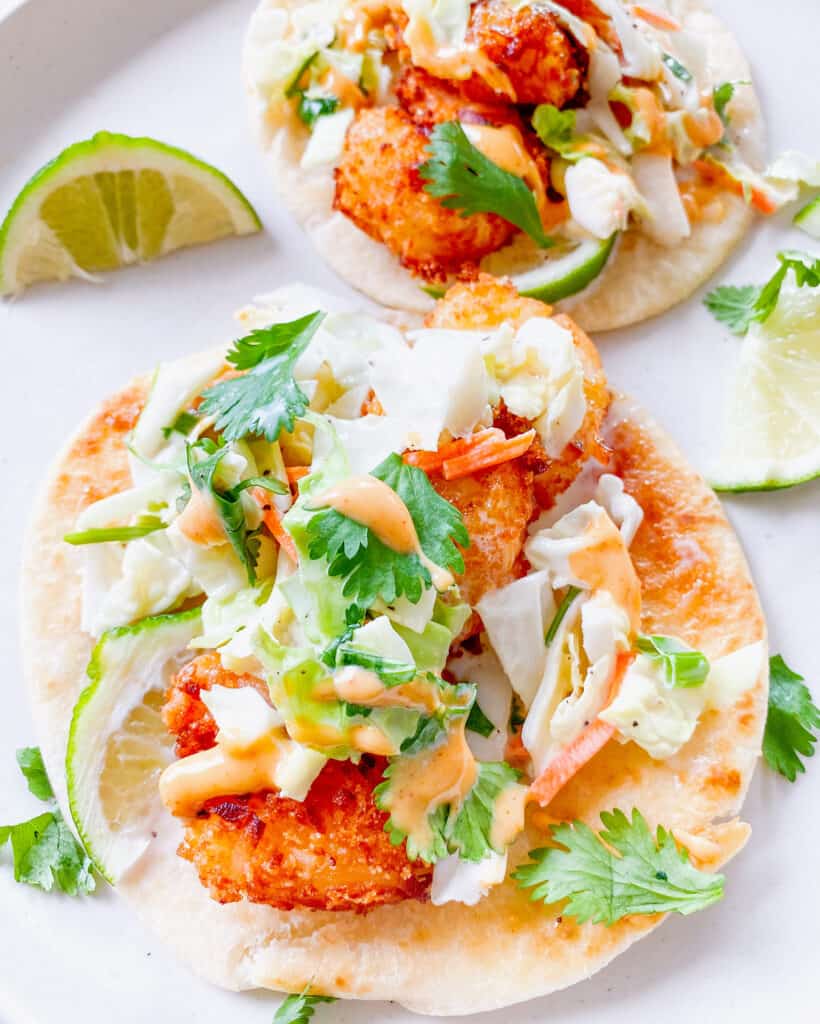 Some of the links in this post may contain affiliate links, which means I make a small commission if you choose to purchase through qualifying links, at no cost to you.
Why You'll Love This
It's quick and easy to make especially when you need a meal on the table in under 30 minutes.
If you don't have shrimp, I have tried this recipe with cubed chicken and is super tasty.
The shrimp are great in tacos but also perfectly delicious on their own or served with a side of rice and mango salsa.
You are going to fall in love with all of the sweet and savory flavors.
Ingredients & Substitutions
Raw Shrimp – use thawed shrimps with tails removed 
Flour – all-purpose flour or gluten-free flour works best
Panko Bread Crumbs – this gives the shrimp a crispy, crunchy outer layer
Sweetened Shredded Coconut – I use any brand of coconut as long as it's sweetened
Frying Oil– use whatever oil you prefer. I use avocado oil.
Eggs –  this helps bind the coconut batter mixture to the shrimp
Tortillas – you can use any tortillas here, corn or flour. I prefer these super soft street taco tortillas!
Other Ingredients – salt & pepper
Cilantro Lime Coleslaw (for taco assembly)

Let's Bake!
Step 1:
First, take all of the raw shrimp and pat dry with a paper towel.
Step 2:
Next, set up three bowls for dredging the shrimp.
In the first bowl, lightly beat one egg and set aside.
Add the flour plus salt, + pepper to the second bowl.
And lastly, in a third bowl, add the panko + shredded coconut.
Step 3:
Take the shrimp and dip each in flour, egg, and coconut/panko mixture, and set on a plate. Do this for all of the shrimp and then refrigerate for 10 mins.
Step 4:
Heat the avocado oil in a small pan on the stovetop and fry each shrimp until golden on each side.
Step 5:
Set the fried shrimp on a paper towel and let cool.
Step 6:
While the shrimp cool, combine the coleslaw ingredients in a medium bowl and set in the fridge until ready to plate.
Tips For Success
These coconut shrimp tacos are best eaten hot and served with a cool and crunchy cilantro lime coleslaw.
Make sure you don't let the oil get too hot for frying. It can quickly start to get dark and bubbly so be sure to keep the heat low.
I recommend eating these coconut shrimp the same day you cook them, but you can reheat these the next day in the air fryer.
What to Serve With
You May Also Like
Coconut Shrimp Tacos
Ingredients
16

raw shrimps

tails removed

6

tbsp

all-purpose flour

1/2

cup

panko bread crumbs

4

tbsp

sweetened shredded coconut

2

eggs

4

small

tortillas

1/2

tsp

salt

1/2

tsp

pepper

2/3

cup

frying oil

avocado oil
Instructions
Pat the raw shrimp dry with a paper towel.

In a shallow bowl, beat the egg lightly.

In a separate bowl, mix together the flour, salt, and pepper.

In a third bowl, combine the panko bread crumbs and shredded coconut.

Dip each shrimp in the flour mixture, then the egg, and then the panko and coconut mixture, coating well. Place the coated shrimp on a plate and refrigerate for 10 minutes.

Heat a small amount of avocado oil in a pan over medium heat and carefully add the shrimp to the hot oil and fry until golden brown on both sides, about 2-3 minutes per side.

Remove the shrimp from the pan and place on a paper towel to drain excess oil. Let cool.

You can serve these tacos these with my cilantro lime coleslaw or top with a mango salsa of your coice!
For more ideas, check out my Instagram and TikTok!