This everything bagel tortilla chip recipe is the best! These chips are the ultimate snack when you're looking for something savory and delicious. They're easy to make and are the perfect quick bite for snacking or serving alongside your favorite dip.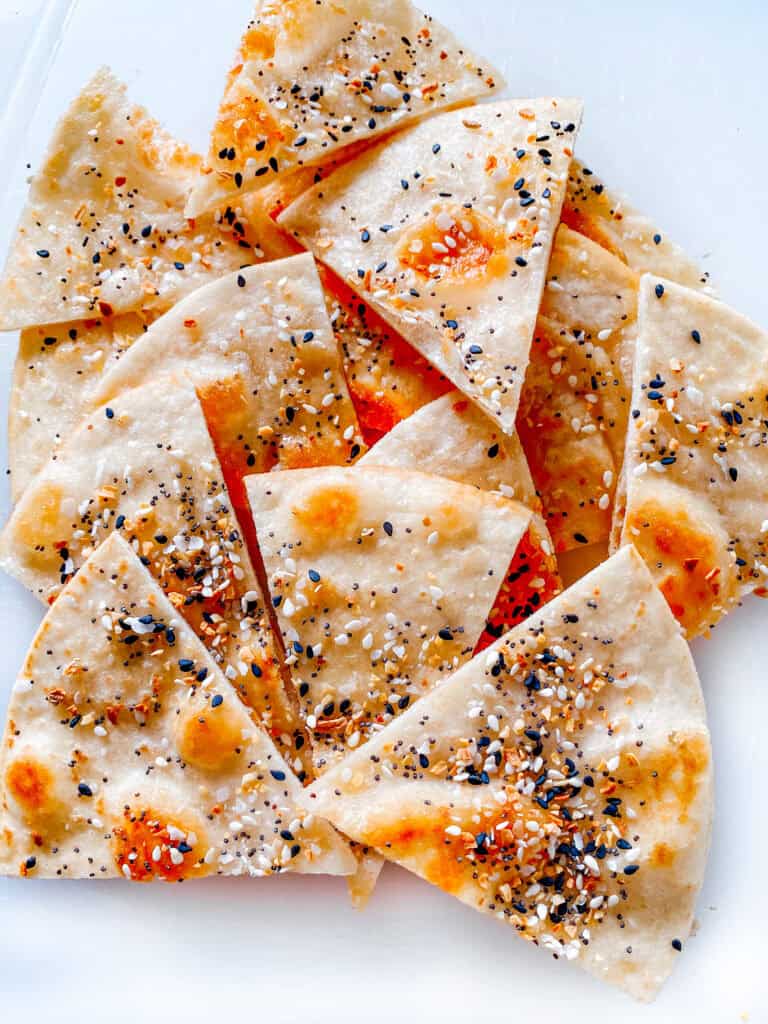 Some of the links in this post may contain affiliate links, which means I make a small commission if you choose to purchase through qualifying links at no cost to you.
Why You'll Love This
These everything bagel tortilla chips are my go-to snack when I have no idea what I want to snack on in the kitchen.
It's so quick to make, and you only need a few ingredients!
It's the PERFECT chip for any dip like hummus or buffalo chicken. Honestly, you don't even need to pair it with anything. They are so delish and great on their own!
Change the ingredients- add garlic powder to the seasoning mix or even chili powder. It's super customizable, and you will find the flavor balance that's right for you!
INGREDIENTS & SUBSTITUTIONS
Tortilla – You can use any tortilla for this recipe, such as flour, corn, or whole wheat. Experiment with different brands and styles to find your favorite. I like to use these super soft tortillas.
Avocado Oil – Avocado oil has a high smoke point, making it a good choice for frying or baking at high temperatures. It also adds a slightly nutty flavor to the chips.
Everything Seasoning – This blend of spices, seeds, dried onion, and garlic is most notably used on everything bagels. It adds a savory, aromatic flavor to the tortilla chips.
Overall, these ingredients combine to create a tasty and satisfying snack that can be customized based on your preferences and what you have on hand.
Let's Cook!
Step 1:
In a medium nonstick pan, heat 1/4 cup avocado oil on medium.
Step 2:
Carefully place one tortilla at a time in the hot oil and cook until golden brown on each side.
Step 3:
Immediately sprinkle the everything seasoning on the fried tortillas and let cool
Step 5:
Once cooled, cut the tortilla into the chip-shaped size and enjoy!
TIPS FOR SUCCESS
When cooking the tortillas on the stove, be sure not to overcook them. Toast both sides just until they turn golden brown and crispy.
Make sure you season the tortillas immediately and let them cool before serving.
Store leftovers in an airtight container or in a plastic bag for up to a week.
YOU MAY ALSO LIKE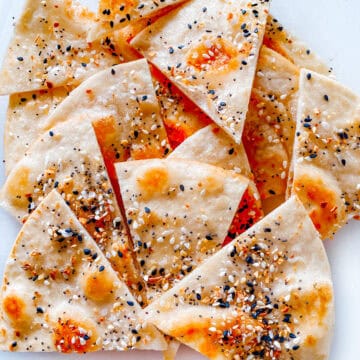 Everything Bagel Tortilla Chips
Ingredients
3

Soft Tortillas

cut into triangles

1/4

cup

avocado oil

2

tbs

Everything bagel seasoning
Instructions
In a medium nonstick pan, heat 1/4 cup avocado oil on medium.

Carefully place a few tortilla pieces at a time in the hot oil and cook until golden brown on each side.

Place the cooked chips on a wire wrack and sprinkle the everything seasoning.

Let chips cool and enjoy!
DID YOU MAKE THIS RECIPE? PLEASE LEAVE A RATING AND COMMENT BELOW.