This Honey Citrus Salmon recipe makes tender, flaky salmon topped with a deliciously sweet citrus sauce! This dish comes together in under an hour and only takes a few minutes to prep. This baked sheet pan salmon pairs well with your favorite veggies making dinner a breeze.

So I've been making sheet pan salmon for a long time, but I FINALLY perfected the sauce recipe tonight. If you love easy dinners and a quick cleanup, save this dish!
There is nothing better than putting dinner on the table with the least amount of pots and pans used. Music to my ears! Baking salmon is such an easy way to throw everything on one sheet pan and call it a day.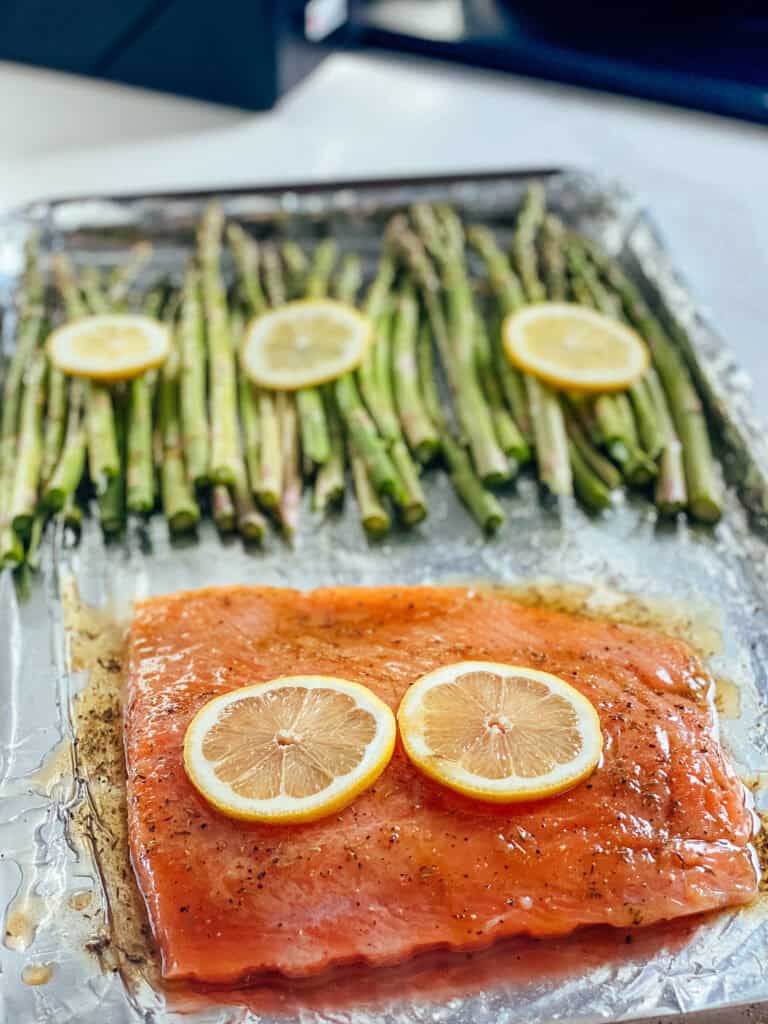 WHAT'S IN THIS HONEY CITRUS SALMON RECIPE?
This dish is quite simple but will feed the entire family in under an hour!
Here's what you'll need:
salmon fillets with skin left on
asparagus or your favorite veggie
ghee (or butter)
honey
garlic
avocado oil
lemons
fresh herbs (thyme, oregano, dill)
salt and fresh ground black pepper
HOW TO BAKE HONEY CITRUS SALMON WITH ASPARAGUS
Prep: Preheat oven to 400F.
Prepared a baking sheet with parchment paper.
Sauce: Place the salmon fillets skin-side-down on the baking sheet and season with salt and pepper.
In a small bowl mix together the ghee, honey, garlic, avocado oil, herbs, and half the juice of a lemon.
Pour the sauce over the prepared salmon.
Add Veggies: Place the asparagus around the fillets in a single layer. Toss around to coat with the olive oil and a little lemon juice.
Bake: Bake the salmon for 10 to 12 minutes, or until salmon reads 140F with an instant thermometer.
Serve: Remove baking sheet from the oven and let rest for a few minutes. Garnish with dill and lemon slices.
HOW TO STORE & REHEAT LEFTOVERS
You can store your salmon leftovers in your fridge for about 1 to 2 days. I keep all my leftovers in these airtight containers.
The best way to reheat salmon leftovers is over the stove in a non-stick skillet. Microwave is a big no no 🙂
Honey Citrus Salmon
Ingredients
1

medium

salmon fillet

1

bunch

asparagus spears

trimmed

3

tbsp

ghee

2

tbsp

honey

2

tsp

garlic

minced

2

tsp

thyme

1

tsp

oregano

1/4

cup

avocado oil

2

whole

lemons

1

pinch

salt

1

pinch

pepper

1

tbsp

dill

for garnish
Instructions
Preheat the oven to 400° and line a large rimmed baking sheet with parchment paper

Season the salmon on both sides with salt and pepper and place on baking sheet

Add pre-trimmed asparagus to the sheet pan

In a small bowl, whisk together the melted ghee, honey, garlic, oregano, thyme, avocado oil, and juice of 1/2 a lemon

Liberally pour sauce over salmon and asparagus and garnish with sliced lemons

Garnish with dill before serving