This Honey Citrus Salmon recipe makes tender, flaky salmon topped with a deliciously sweet citrus sauce! This dish comes together in under 30 minutes and only requires a few ingredients. This salmon pairs well with your favorite veggies or rice making dinner a breeze.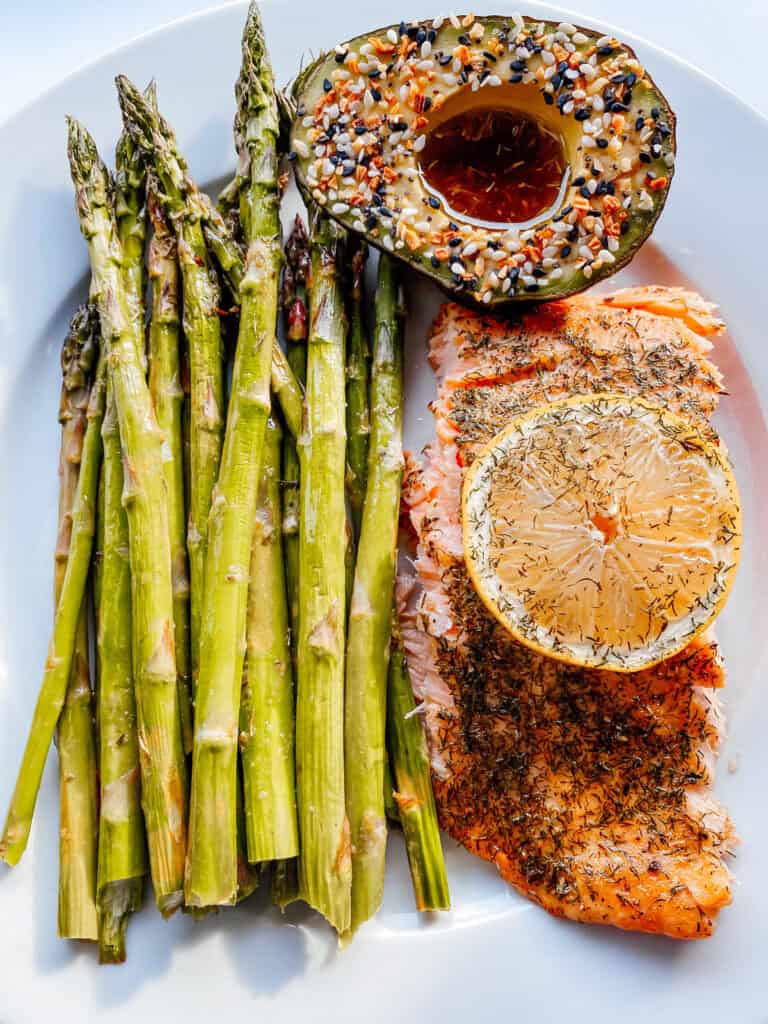 Some of the links in this post may contain affiliate links, which means I make a small commission if you choose to purchase through qualifying links, at no cost to you.
Why You'll Love This
It's quick and easy to make, especially when you need a meal on the table in under 30 minutes.
If you don't have lemons, I have tried this recipe with oranges, which is super tasty.
The sweet and savory sauce is delicious, and you'll be drizzling it all over the veggies too!
If you are looking for an easy weeknight dinner, this is the sheet pan meal to make.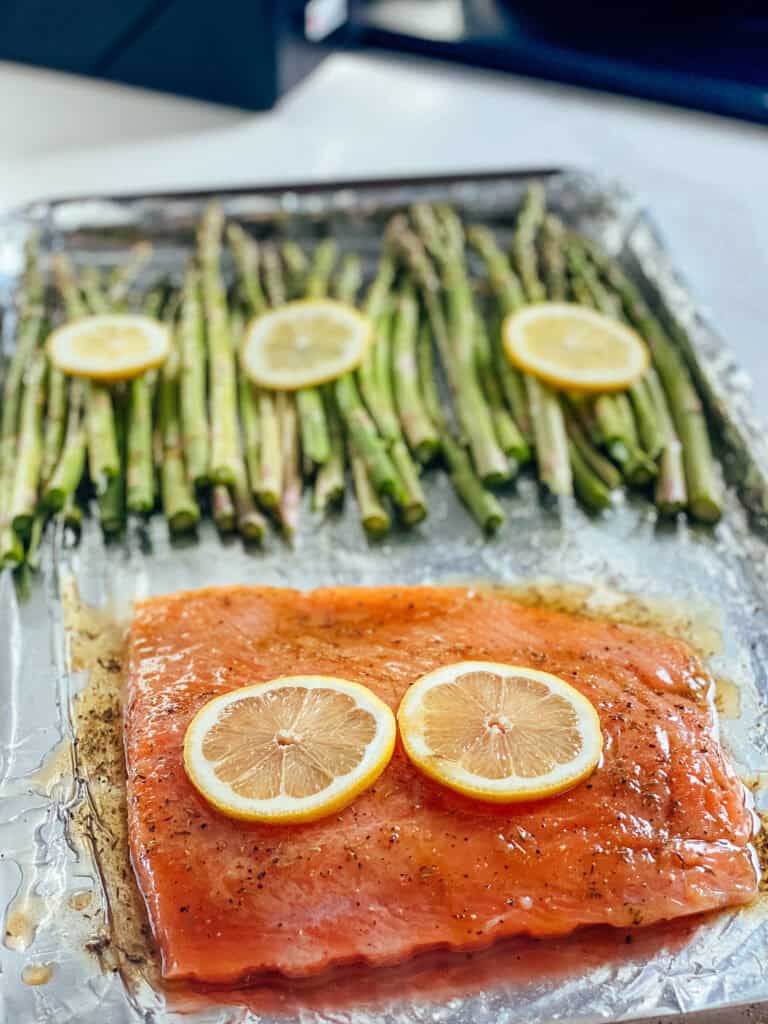 Ingredients & Substitutions
Salmon – use any cut of salmon for this recipe. I prefer to keep the skin on when cooking.
Ghee – Ghee, or clarified butter, adds a rich, nutty flavor to the glaze for the salmon.
Honey – the honey balances out the tartness of the citrus and adds a touch of sweetness to the glaze.
Garlic – Garlic adds depth of flavor to the glaze and pairs well with honey and citrus.
Lemon – The citrus in the recipe, lemon, adds a bright, tangy flavor to the glaze and helps to tenderize the salmon while it bakes.
Avocado Oil – Avocado oil has a high smoke point and is what I like to use for cooking. Feel free to substitute for olive oil.
Other Ingredients – Salt and pepper enhance the overall flavor of the dish, while oregano and dill add a hint of herby depth. Asparagus, or your favorite veggie, adds some greens to this dish.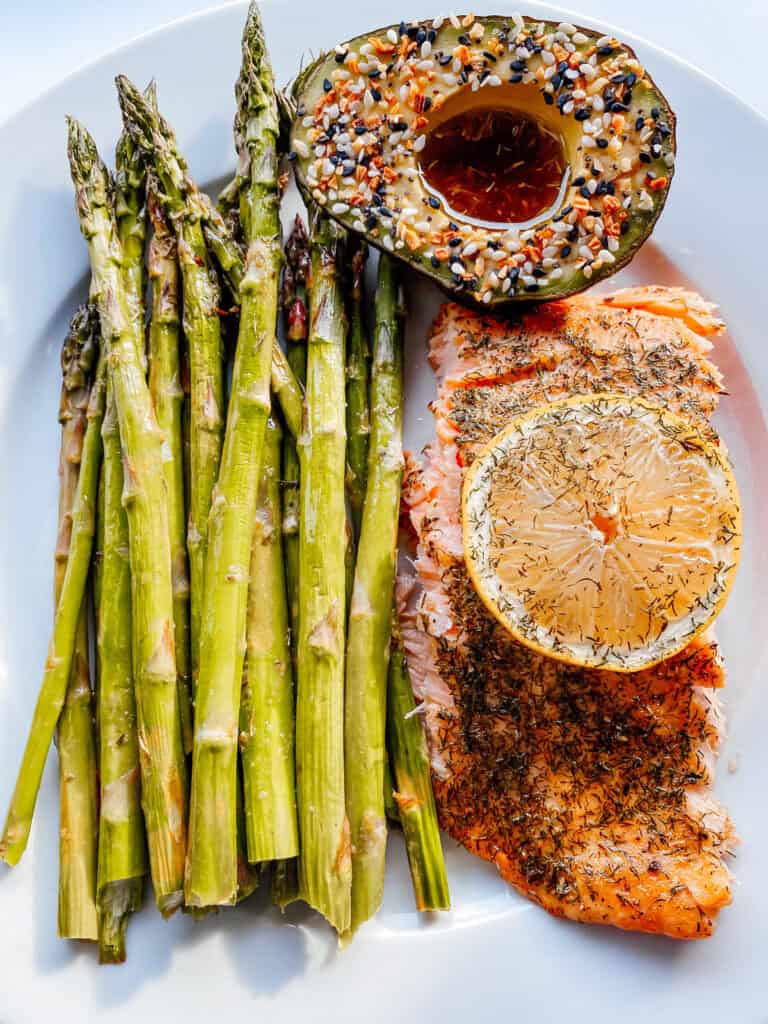 Let's Bake!
Step 1:
Preheat oven to 400 degrees F. Prepare a baking sheet with parchment paper.
Step 2:
Next, place the salmon filets skin-side down on the baking sheet and season with salt and pepper
Step 3:
Mix the ghee, honey, garlic, avocado oil, herbs, and half the juice of a lemon in a small bowl.
Pour the sauce over the prepared salmon on the baking sheet.
Step 4:
Next, add the asparagus in a single layer to the sheet pan. Drizzle avocado oil and the juice of half a lemon over the asparagus.
Step 5:
Bake the salmon for 10 to 12 minutes, or until the salmon reads 140F with an instant thermometer.
Step 6:
Remove the baking sheet from the oven and let the salmon rest for a few minutes. Garnish with dill and lemon slices.
Tips For Success
You can store your salmon leftovers in your fridge for about 1 to 2 days. I keep all my leftovers in these airtight containers.
The best way to reheat salmon leftovers is over the stove in a non-stick skillet. Microwave is a big no 🙂
What to Serve With
This salmon is best served with asparagus or even with a side of basmati rice!



If you want a lighter option, this salmon is great on top of a salad or even served in tacos.
You May Also Like
Honey Citrus Salmon
Ingredients
1

medium

salmon fillet

1

bunch

asparagus spears

trimmed

3

tbsp

ghee

2

tbsp

honey

1

tbsp

garlic

minced

1/2

tbsp

oregano

1/4

cup

avocado oil

2

whole

lemons

1

pinch

salt

1

pinch

pepper

1

tbsp

dill

for garnish
Instructions
Preheat the oven to 400° and line a large rimmed baking sheet with parchment paper

Season the salmon on both sides with salt and pepper and place on baking sheet

Add pre-trimmed asparagus to the sheet pan

In a small bowl, whisk together the melted ghee, honey, garlic, oregano, avocado oil, and juice of 1/2 a lemon

Liberally pour sauce over salmon and asparagus and garnish with sliced lemons

Garnish with dill before serving
For more ideas check out my Instagram and TikTok!