These are the organization containers you need for your kitchen pantry and fridge!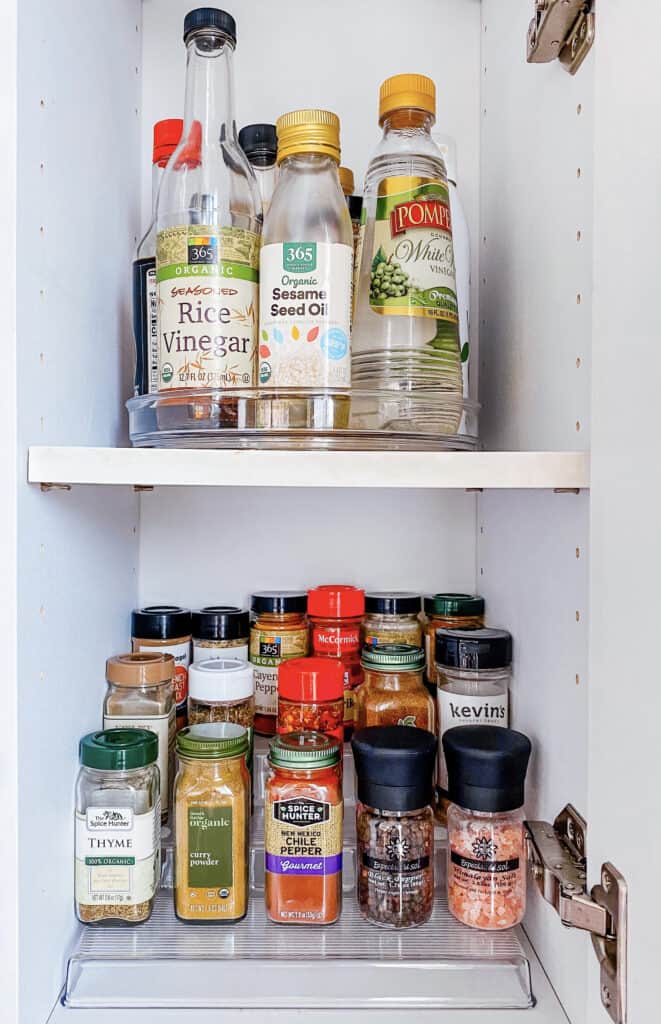 I use these primarily for all of my dry goods like pasta and rice, but also perfect for canned foods like soup and veggies. These clear pantry organizer bins make it easy to see what I have in the kitchen at all times.
For fridge organization, these are my ride-or-die and fit perfectly without taking up too much space. I use these longer bins for storing our canned seltzers, lemons and limes, and herbs I don't want getting smushed in the fridge drawer. This slim organizer bin is perfect for creating a clean and organized refrigerator.
This smaller stacking bin set is used mostly for tea and spices. The height of the bins when stacked is just high enough I can fit all of my tea packets in two packed rows. It saves a ton of space – especially when you don't want bulky boxes taking up valuable space for the last few packets of tea. Such a game changer!
Now, the spice stadium is a new addition to my kitchen and I don't know how I lived without it before! Right now we have limited pantry space living in an apartment, and this 3-tier spice rack makes it so easy to see all the spices in one tiered view.
A rotating tray is another new add to my kitchen organization arsenal. Spices were my first thought, but after looking in my pantry and seeing where I needed more space optimization, this tray is now my oil/vinegar tray. This rotating tray is ideal for storage in a compact space.