The BEST chocolatey, extra moist & fluffy Nutella mug cake that's ready in under 3 minutes!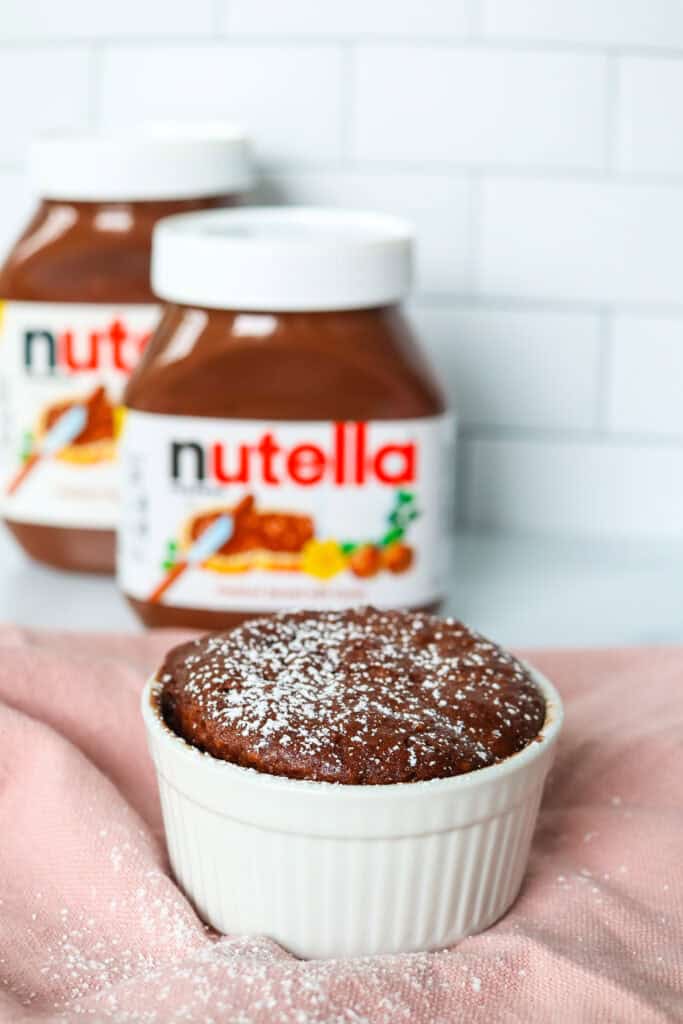 Some of the links in this post may contain affiliate links, which means I make a small commission if you choose to purchase through qualifying links, at no cost to you.
Why You'll Love This
This is my solution to any late-night snack cravings when I want something cozy and delicious. Especially when I don't have the energy to get out all the ingredients to make a batch of brownies. This recipe only requires one cup, 4 ingredients, and less than 2 minutes in the microwave. Top this gooey mug with ALL of your favorite toppings like whipped cream and sprinkles. My favorite topping is to add a scoop of caramel ice cream on top. *chefs kiss*
Ingredients
Nutella – This is chocolatey ingredient number 1. And something I always have on hand because duh – its the best! You could probably use any hazelnut spread but the Nutella brand the one I've always used and turns out out perfect every time.
Eggs – Eggs provide structure and flavor. I have tried this recipe without the egg and I still find it to be the most tasty using one.
Flour – For that sweet and festive flavor that pairs perfectly with the cumin and cayenne.
Vanilla – The vanilla is optional but highly recommended.
Let's Cook!
Step 1:
Preheat the oven to 350° and line a baking sheet with parchment paper. My favorite baking sheet is from Great Jones right now, and this Nordic Ware pan is always a staple in our kitchen. 
Step 2:
In a medium bowl combine almonds, walnuts, and pecans and set aside. Feel free mix up the types of nuts used in the recipe.
Tips
When baking the nuts in the oven, be sure to not over bake. Baking time will vary by ovens, but do keep an eye on them when baking to avoid burning. Just light golden brown is what you are looking for.
Store nuts in the fridge during the summer months and in a container at room temperature in the colder months.
Freeze nuts up to 3 months in the freezer if you don't plan to eat all of them at once.
Recipe
Nutella Mug Cake
Ingredients
3/4

cup

@nutella

2

eggs

eggs

1/4

cup

flour

1

tsp

vanilla
Instructions
Combine all ingredients in a medium sized bowl and mix until smooth

Prepare two mugs and spray the inside with olive oil

Place cake batter evernly into 2 mugs

Microwave one at a time for 60 seconds. Enjoy!