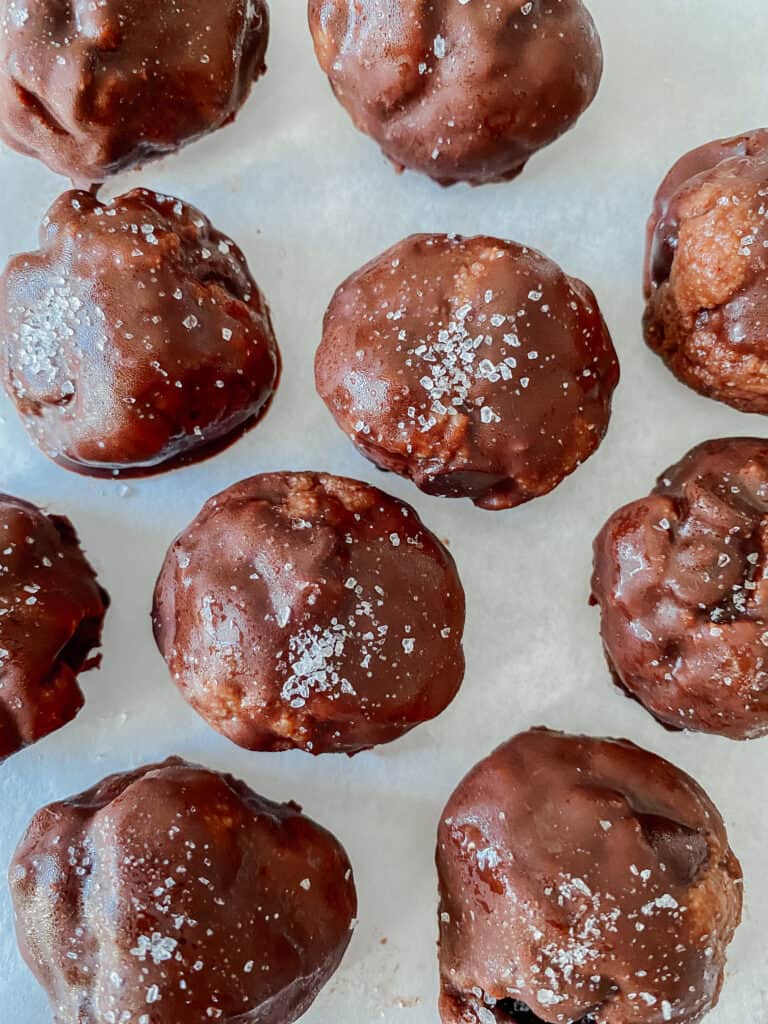 Lately I've had the biggest sweet tooth & I wanted to make something to keep in the freezer for a quick dessert post-dinner. These cookie dough bites started out as bars, but then took a quick turn to bite-sized snacks. The sea salt on top is totally optional, but gives it a nice salty kick. And it looks cute too!
Vegan & Gluten-Free Cookie Dough Bites
Ingredients
1/2

cup

maple syrup

1/2

cup

coconut oil

3

cups

almond flour

1/2

tsp

sea salt

1

cup

@hukitchen chocolate gems

1

tbsp

coconut oil
Instructions
In a microwave-safe bowl add the coconut oil and maple syrup and heat until melted.

Next, add in the almond flour and sea salt to the maple syrup mixture until fully combined.

Lastly, fold in 1/2 cup of chocolate chips and refrigerate dough for for 30 minutes until firm.

While the dough is chilling, take a microwave safe bowl and add 1/2 cup of chocolate chips and 1 tablespoon of coconut oil and heat. Whisk chocolate mixture until fully combined.

Take out refrigerated dough and form balls and place on a lined mat. Take the chocolate sauce and submerge each cookie dough bite and place back on the lined mat.

Freeze chocolate dipped bites for 1 hour. Before serving, sprinkle with sea salt. ENJOY!