El Vez in NYC is the perfect spot to enjoy after-work drinks or a delicious dinner with friends. With a menu full of flavorful and delicious Mexican dishes, there's something for everyone to enjoy (even the kids!). Read on for a list of must-try food and drinks at El Vez in NYC.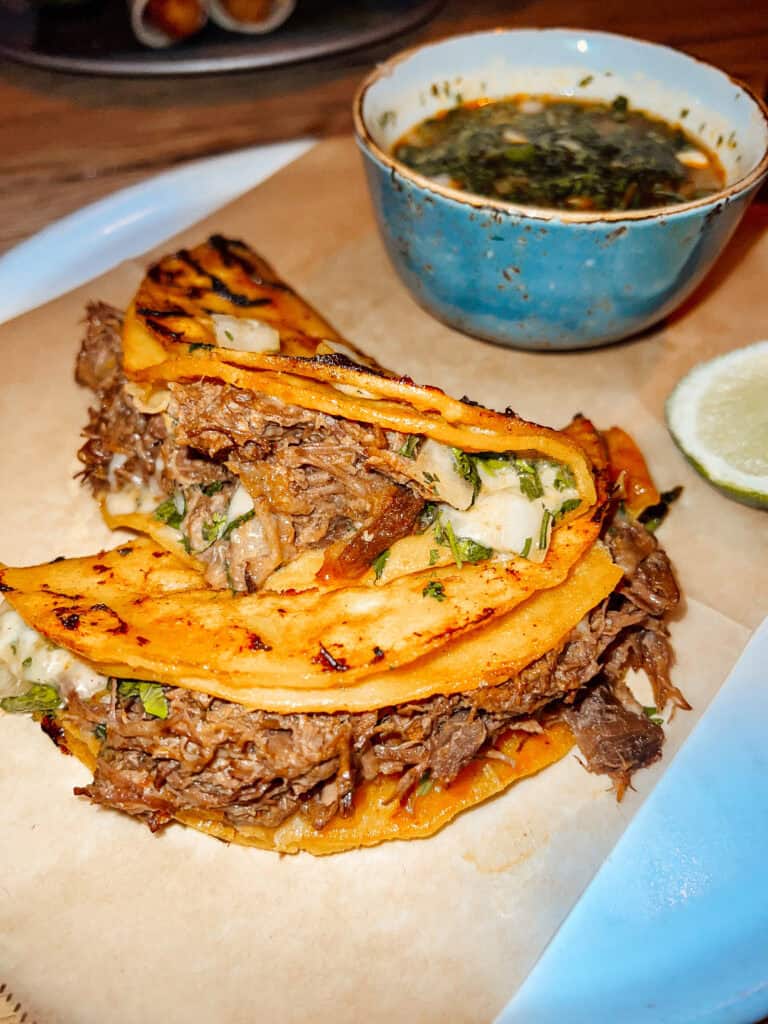 What to Order
Nacho Mama Nachos
If you're looking for a delicious and filling appetizer, the nachos at El Vez are a must-try. Made with melted queso mixto, black beans, salsa ranchera, sour cream, pickled red onion, and jalapeño, these nachos are loaded with flavor in every bite. They're served on a large pizza pan, ensuring that all the toppings are evenly distributed on each chip. Pair these nachos with a frozen blood orange margarita and you can thank me later.
But if you're really hungry, El Vez also offers a supersized version of their classic nachos called The Nacho That Ate New York. Recommended for parties of 8 or more, these larger format nachos are perfect for sharing with a group. Whether you opt for the Nacho Mama or The Nacho That Ate New York, you won't be disappointed by the delicious and satisfying appetizers at El Vez.
Birria Tacos
These tacos are a must-try at El Vez, especially if it's your first time there. They're made with chile braised beef, queso mixto, cilantro, and onion, and served with a side of consommé.
The chile braised beef in these tacos are cooked to perfection, tender and juicy with a spicy kick from the chile. It's combined with queso mixto, a blend of Mexican and American cheeses, which adds a creamy and rich texture to the filling. The tacos are served on griddled tortillas, which gives them a crispy and slightly charred edge. To top it off, the tacos come with a side of consommé, a clear broth that adds a light and savory touch to the dish.
Chrispy Mahi Mahi Tacos
If you're a fan of fish tacos, you have to try the crispy Mahi Mahi tacos at El Vez. The Mahi Mahi is fried to perfection and served with red cabbage, avocado, and a spicy chipotle pepper remoulade on a flour tortilla.
My husband and I are huge fans of this dish and always recommend it to anyone visiting El Vez for the first time. The combination of crispy fish and zesty toppings makes these tacos stand out on the menu.
Beef Short Rib Enchiladas
These enchiladas are filled with tender, flavorful short-rib meat and topped with a rich and spicy chile pasilla sauce, crema, queso fresco, and fresh jalapeno for a bit of heat. They are a tried and true classic at El Vez, and always a reliable choice for a delicious meal.
Plantains con Queso
These sweet and savory plantains are fried to a golden brown and then topped with a generous dollop of creamy queso. If you're a fan of sweet and savory flavors, these plantains are a must-try at El Vez. The combination of fried plantains with crispy edges and creamy queso is simply irresistible.
Zucchini Quesadilla
The zucchini quesadilla at El Vez is a must-try for all vegetarians visiting the restaurant. Made with grilled zucchini, corn, peppers, onions, and queso mixto, this quesadilla is full of flavor and a great option for a meat-free meal. This is definitely a dish that I always come back to whenever I visit El Vez.
HEAD OVER TO MY INSTAGRAM AND TIKTOK TO SEE MY FAVORITE EATS!