Here's a rundown of all the food and drink you must order at El Vez NYC! This vibrant Mexican restaurant is the perfect spot for after-work drinks or dinner with friends. Check out the list below of all the must-order eats for your next trip to El Vez.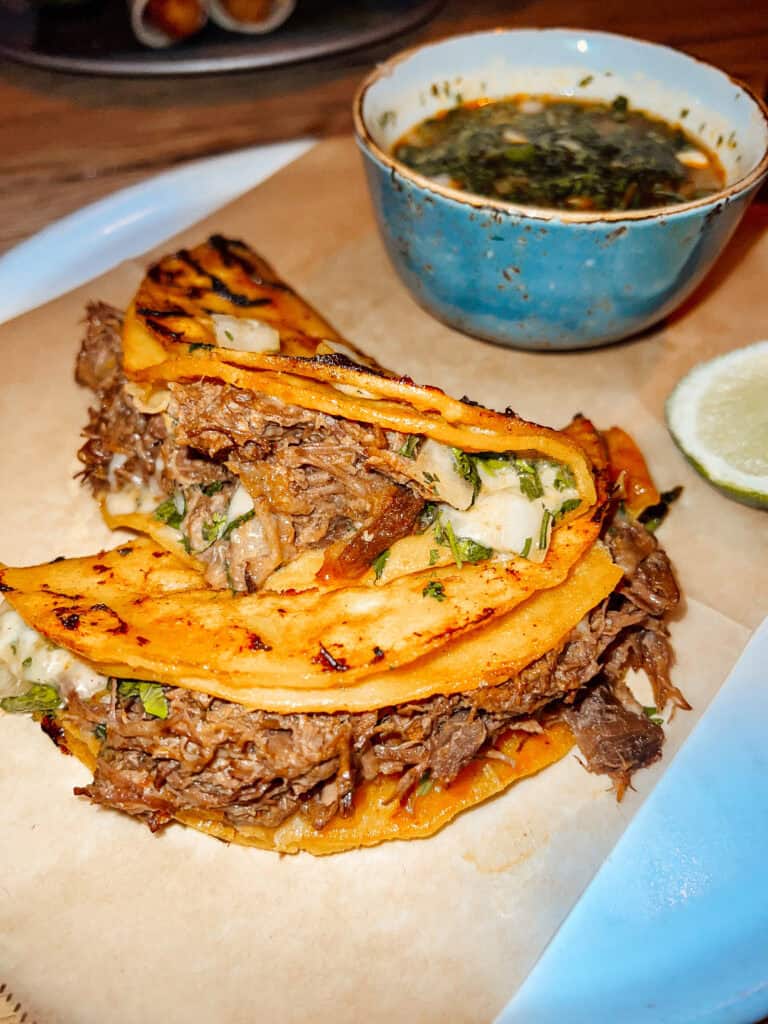 What to Order
Nacho Mama Nachos
Many places in the city serve up a great spread of nachos, but El Vez has some of the best in town. Do you want to know what makes these nachos so great? They are served on a large pizza pan, and all the toppings are perfectly distributed on each and every chip. That means every bite is loaded with melted queso mixto, black beans, salsa ranchera, sour cream, pickled red onion, and jalapeño. These nachos pair perfectly with a frozen blood orange margarita.
And, if you need a supersized version of the Nacho Mama, they also have The Nacho That Ate New York which is a monster version of the classic. These larger format nachos are recommended for parties of 8 or more and are definitely enough for four people to share if you aren't ordering entrees.
Birria Tacos
This is the newest addition to the menu, and I'm 100% here for it! Constructed on griddled tortillas and packed with chile braised beef, queso mixto, cilantro, onion, and a side of consommé. We were pleasantly surprised by how flavorful and cilantro-forward the tacos were. If it's your first time at El Vez, these tacos are a must-order.
Chrispy Mahi Mahi Tacos
My husband is obsessed with these tacos, and we recommend this dish to anyone visiting El Vez for the first time. The tacos come with red cabbage, avocado, chipotle pepper remoulade and are wrapped up in a flour tortilla. Almost too cute to eat!
Beef Short Rib Enchiladas
You can't go wrong with the short-rib enchiladas. This dish is what I always fall back on when I can't decide what to order. Loaded with chile pasilla sauce, crema, queso fresco, and fresh jalapeno – these enchiladas are sure to hit the spot.
Plantains con Queso
Now, these are some of the best plantains I've ever had in the tri-state area and a must when visiting El Vez. Cooked to perfection and topped with creamy queso. This is a non-negotiable must-order every time I visit kind of side.
Zucchini Quesadilla
Lastly, if you are looking for a vegetarian option, look no further than the zucchini quesadilla. This was the first dish I ever ordered at El Vez and still to this day it's just as good as the first time I had it.
HEAD OVER TO MY INSTAGRAM AND TIKTOK TO SEE MY FAVORITE NYC EATS!