These crispy smashed potatoes are comfort food at its finest. Picture creamy, tender insides, encased in a delightful, golden crunch. They're versatile, and perfect for a special occasion or a weeknight meal. Whether you're hosting a gathering or simply craving a hearty dish, these spuds are a surefire crowd-pleaser. Get ready to savor this easy yet satisfying spin on a timeless classic!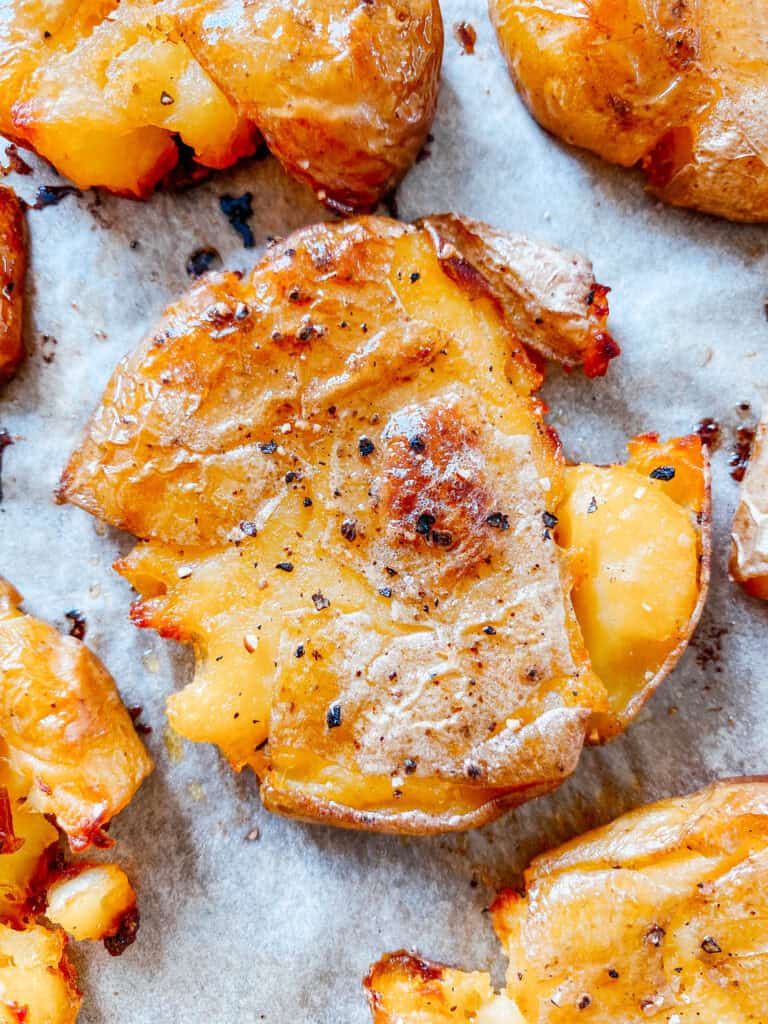 Why You'll Love This
These crispy smashed potatoes are a fun and tasty twist on the classic smashed potato recipe
With just a few ingredients and minimal prep time, these potatoes are a quick and easy side dish to make
The combination of creamy smashed potatoes and rich, earthy olive oil is genuinely delicious
These potatoes can be baked in the oven or air fryer, making them a convenient and hassle-free choice for any meal
Serve them as a side dish, or enjoy them as an appetizer with your favorite dip
Even picky kids will love these crispy smashed potatoes!
This recipe will become a new family favorite and a go-to side dish for any weeknight meal.
INGREDIENTS & SUBSTITUTIONS
Baby Yukon Gold Potatoes – These small, buttery potatoes have a delicate flavor and creamy texture that make them perfect for smashing. You can substitute for fingerling potatoes as well.
Olive oil – the olive oil helps to brown the potatoes slightly and give them a crispy texture.
Honey – this is key to adding that touch of sweetness to the potatoes. It also helps to caramelize the potatoes slightly as they bake, giving them a golden brown and crispy top.
How to make crispy smashed potatoes
Begin by selecting small, buttery potatoes with thin skins, such as petite gold or fingerling potatoes. Avoid using larger potatoes, as they will be difficult to smash and may fall apart.
Place the potatoes in a large pot and cover them with water. Bring the water to a boil over high heat and continue boiling for about 20 minutes or until the potatoes are soft and fork-tender. Once cooked through, drain the water from the pot and allow the potatoes to rest for a few minutes.
Next, preheat your oven to 425 degrees F and prepare a large baking sheet with parchment paper.
Place the potatoes on the baking sheet and use the bottom of a glass or hard surface to "smash" them. The potatoes should be flattened but still hold their shape.
Drizzle the olive oil over the smashed potatoes and sprinkle with salt and pepper.
Place the baking sheet in the oven and bake for 30-40 minutes or until the potatoes are crispy and golden brown on the outside.
Once the potatoes are done baking, remove them from the oven and serve.
TIPS FOR SUCCESS
Be sure to keep an eye on the potatoes as they bake, and remove them from the oven as soon as they are crispy and golden brown.
Try different topping combinations such as melted butter, oils, herbs, spices, and other seasonings to find your favorite flavor combination.
Smashed potatoes are best served hot and fresh out of the oven. If you need to keep them warm for a party or event, place them in a low oven (around 200-250 degrees F) until ready to serve.
YOU MAY ALSO LIKE
Honey Mustard Ham and Cheese Sliders
Giant Strawberry Pop Tart
Ingredients
2

sheets of puff pastry

thawed if frozen

1

cup

strawberry fruit jam

2

cups

powdered sugar

1/4

cup

heavy cream

1

tablespoon

water

for egg wash

1

egg

for egg wash

1/3

cup

sprinkles
Instructions
Preheat the oven to 400°F (200°C)

Place one of the puff pastry sheets on a floured surface, rolling the sheet until it reaches 9x15 inches.

Spread the strawberry fruit jam evenly over it, leaving a small border.

Place the second sheet of puff pastry sheets on a floured surface, rolling the sheet until it reaches 9x15 inches.

Gently place the second sheet on top of the jam covered puff pastry, crimping the edges with a fork to seal.

In a small bowl, whisk together 1 tablespoon of water and 1 egg. Brush this egg wash over the top of the pop tart for a golden finish.

Place the pop tart in the preheated oven and bake for 20 minutes or until the pastry turns golden brown.

While the pop tart is cooling, whisk together 2 cups of powdered sugar and 1/4 cup of heavy cream to make the icing. Drizzle it generously over the top and sprinkle 1/3 cup of sprinkles.

Sprinkle Magic: Immediately sprinkle 1/3 cup of colorful sprinkles over the wet icing.

Once the icing sets, slice your Giant Strawberry Pop Tart into generous portions and enjoy!
DID YOU MAKE THIS RECIPE? PLEASE LEAVE A RATING AND COMMENT BELOW.